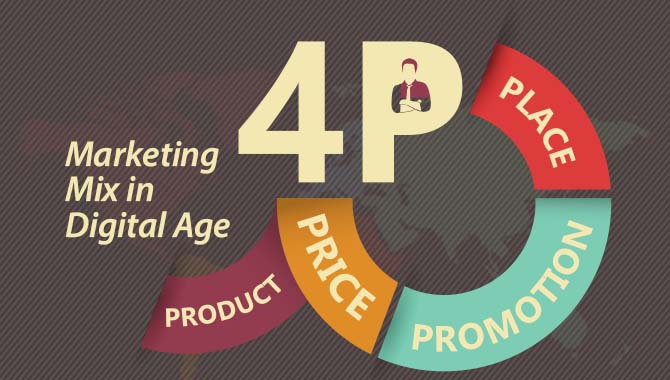 Marketing Mix in Digital Age
PromiAD, 9 months ago
3 min

read
1294
Marketing never replaces its essentials – Trends and buzzwords come and go – but it is still about creating brand awareness and desire among your potential customers.  The digital marketing tools and tactics are enablers, the basics of marketing like marketing mix (4p of marketing), segmentation, and brand positioning are still the same. However, when it comes to the available marketing tactics, there has been a very definite and fairly sudden shift towards a whole range of marketing tools. Marketing Mix (7P of marketing) nowadays with further addition includes People, Packaging, and Process but 4P's are core of marketing mix and in the digital age 4P's cover People, Packaging, and Process within it as well.
If you want to reach your customers, a digital marketing presence is not a luxury. It's essential. In the digital age, the customer has evolved. 4ps of marketing (Product, Place, Price & Promotion) in the digital age has been converted to CODE (Co-creation, Omni-channel, Dynamic Pricing & Engagement) called as marketing mix of the digital age.
Are you looking for Digital Transformation? The marketing mix in the digital age CODE will strengthen, accelerate and scale up your business model. For PromiAD users we have added are some interesting examples for the marketing mix as well.
Product – Co-creation
So what is Co-creation? Co-creation is a collaborative innovation where a business allows stakeholders (usually customers) to share input in product or service design.
In the Digital Age, all companies worry about their customer experiences with products and services. To build more trusting relationships companies have strived for years to involve all stakeholders to solve problems.
Marketing in the digital age is two-way communication, therefore, co-creation is more informative than traditional market research and yields deeper market insights.
Co-creation examples:
Lays – How a great idea of PepsiCo's Lays brand traveled around the world. Above all, Do Us A Flavour (DUAF) is an idea that has engaged 38 million people in 25 countries around the world, each creating and submitting their own unique flavor.
These are some other examples of co-creation, what Starbucks does in its highly touted MyStarbucksIdea.com website or Dell on its equally acclaimed IdeaStorm.com site.
Place – Omni-channel
Omni-channel is a multi-channel sales approach that provides the customers an integrated shopping experience. Omnichannel marketing — marketing that seeks to provide a seamless buyer experience, regardless of channel or device.
It's about making customers' life as easy as possible with omnichannel. The wholesome benefit of omnichannel is delivering a seamless buyer journey.
Omni-channel example:
OASIS – UK Fashion Retailer fusing their e-commerce site, mobile app, and brick-and-mortar stores into a simple shopping experience.
Price – Dynamic Pricing
The practice of pricing items at a level determined by a particular customer's perceived ability to pay. The digital economy has changed the landscape of pricing as well. Businesses set flexible prices for products or services based on current market demands.
Dynamic Pricing example:
For example, me and my friend sitting at the same place Book Uber or Careem, the fair charges for both will be different for the same location.
Promotion – Engagement
In the digital age, the core of promotion is engagement unless you don't engage through advertisement you lost in the clutter. It's about creating an experience online for users that gets them engaged with you.
Engagement example:
For example, Lays SAY IT WITH A SMILE campaign gamified the engagement with users.
In conclusion, Do you know what is the one thing that hasn't changed in hundreds of years in marketing? The ONE THING that hasn't changed in hundreds of years, and it will NEVER CHANGE, that the brands will always put money wherever the audience is and the Audience is Online. Make sure you stay up-to-date with all the latest marketing-related news by following us on Twitter, Facebook, Instagram, and LinkedIn.
Related posts
Subscribe
* You will receive the latest news and updates on your favorite celebrities!