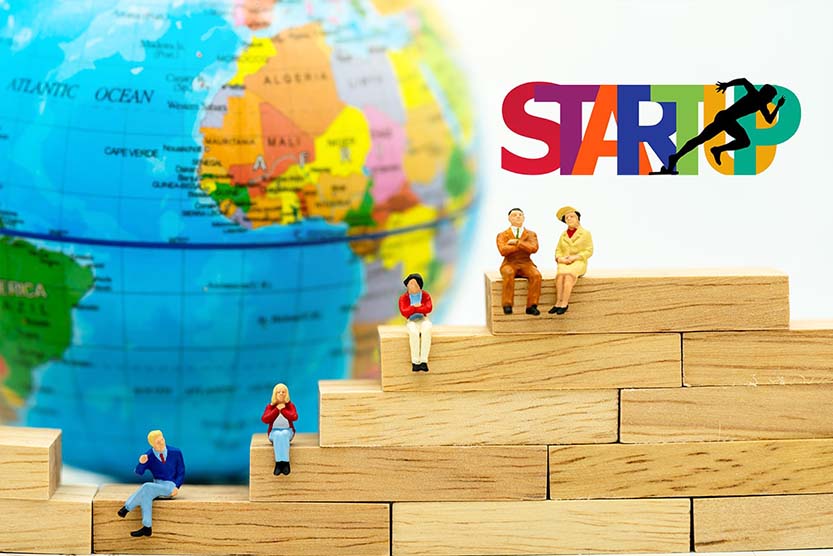 Most Inspiring Entrepreneurial Journeys of Pakistan
PromiAD, 2 months ago
7 min

read
23445
The common most simple definition of an entrepreneur is, 'A person who is an initiator and a challenger'.  But in reality, entrepreneurs are 'risk-takers.' They are the ones who set up legacies and bring in change. They take 'being your boss' to another level. However, the true entrepreneurial spirit lies in the fact that they never back down. They face challenges and risks as they come by. Those risks define an enterprise formed by uncertainty and hard work. Here is a list of entrepreneurs that fought against all odds. Their journeys will inspire your entrepreneurial dreams by reading most Successful Pakistani Entrepreneurs:
Zeeshan Khalid
Zeeshan Khalid is the founder of United Sol – a dynamic web solutions and e-commerce company. The company specializes in delivering cutting-edge IT solutions and services that empower businesses and organizations to thrive in the digital age. United Sol's commitment to innovation and excellence has made them a driving force in Pakistan's technology sector.
Umar Saif
Umar is a prominent Pakistani entrepreneur and computer scientist known for his contributions to the IT sector. He co-founded Plan9, Pakistan's largest technology incubator, and has been instrumental in promoting innovation and entrepreneurship in the country. His drive to pass on his passion and teach computer sciences to the masses has played a pivotal role in shaping the startup culture. His work has not only fostered a culture of startups but also paved the way for technological advancements in Pakistan.
Wahaj Us Siraj
Wahaj Us Siraj is the CEO and Co-Founder of Nayatel, a leading fiber-to-the-home (FTTH) service provider in Pakistan. Nayatel has revolutionized the internet and communication landscape in Pakistan by providing high-speed and reliable connectivity to homes and businesses, under Wahaj's leadership. His entrepreneurial journey is a testament to the potential of the telecommunications industry in Pakistan.
Sunil Sarfaraz Munj & Raza Saeed
Sunil Sarfaraz Munj and Raza Saeed are the co-founders of PakWheels, Pakistan's largest online automotive community and marketplace. Their platform has brought together car and bike enthusiasts, buyers, and sellers, transforming the way people buy and sell vehicles in Pakistan. Their entrepreneurial spirit has driven innovation in the automotive industry.
Salim Ghauri
We're sure you've heard of Netsol Technologies, a global software company with a strong presence right here in our country in one way or another. Well, then you have bound to have heard of Salim Ghauri – the founder and CEO of Netsol Technologies. Under his leadership, Netsol Technologies has become a key player in the IT industry, providing software solutions to major clients worldwide. His journey exemplifies how Pakistani entrepreneurs can make a mark on the global stage.
Monis Rahman a Most Successful Pakistani Entrepreneur
Featured in Forbes, the New York Times, CNN, and many other international platforms, Monis Rahman has made us all proud. He founded Naseeb Networks, an online portal that caters to job recruitment opportunities. The website has over 50,000 visitors daily and has helped change recruitment dynamics. He is also working as a director of the KASHF Foundation.  The platform empowers women to build sustainable communities. Naseeb Networks features two ventures, rozee.pk and minhati.com. The latter provides job opportunities in the Kingdom of Saudi Arabia.
Jehangir Saifullah Khan
Jehangir Saifullah Khan joined the Saif Group after graduating from the University of Virginia, the USA, in 2001. After successfully managing the Group's Textile operations for three years, he joined Saif Telecom. In Saif Telecom, he was involved in developing and securing financing for Pakistan's first undersea fiber optic cable system, TW-1. Today, Pakistan's leading bandwidth provider is known as Transworld. After completing the undersea fiber-optic system, Mr. Jehangir Saifullah Khan joined Saif Energy Limited as the Chief Executive Officer. Saif Energy Limited has had several oil and gas discoveries under his leadership.
Mr. Jehangir Saifullah Khan's passion for alleviating poverty through high-impact business projects made him conceive JSK Feeds Ltd in 2014. A poultry and animal feed manufacturing company. This project directly impacts the lives of two hundred thousand people, helping them to come out of poverty.
Sidra Qasim 
Co-founder of Markhor, Sidra is a young Pakistani entrepreneur. The project ensues handmade shoes and accessories for both men and women. The spirit doesn't end here. Sidra sought talented personnel from rural areas who had lots of talent and flair of handiwork. But they were waiting for the right opportunity. Thus, Sidra's journey as an entrepreneur took flight. She has a comprehensive website and a strong team full of passion and talent to show the world!

Fiza Farhan 
Chief executive of Buksh Foundation, Fiza Farhan is a social entrepreneur inspiring change. Buksh Foundation is a Pakistani microfinance institution, formed with the purpose to alleviate poverty woes. The foundation provides loans to the lower-income class and helps them set up small-scale businesses. Their aim is to improve overall living standards. However, the foundation also trains women to become energy entrepreneurs. Through this, they are able to bring in solar-generated electricity to rural areas.
Zia Imran 
Besides being an entrepreneur, Zia Imran is known as a motivational speaker as well. His passion resides in building energy-saving and automated devices. He has an extensive twenty plus of experience in the IT sector. Also, the CEO of VahZay, Zia Imran hasn't faltered since. He dedicates most of his time in producing and developing products that use bio-renewable energy. A much-needed initiative for a country facing an energy crisis.
Shahzad Roy
Shahzad is not just a renowned musician but also an inspiring social entrepreneur. He founded the Zindagi Trust, a non-profit organization that works towards improving the quality of education in Pakistan's government schools. Through innovative initiatives and a dedicated team, Shahzad Roy is transforming the educational landscape of the country, providing a ray of hope for underprivileged children.
Kalsoom Lakhani
Kalsoom founded i2i Ventures, an investment firm that supports and invests in startups across Pakistan. She is dedicated to fostering entrepreneurship and innovation in the country. Her work in connecting startups with investors and resources has contributed significantly to the growth of Pakistan's entrepreneurial ecosystem.
Bilal Athar
Bilal is the co-founder of Wifigen, a startup that provides free Wi-Fi services in exchange for ad engagement. This innovative business model has gained popularity not only in Pakistan but also internationally. Bilal Athar's entrepreneurial journey reflects the potential for creative solutions to common problems in the digital age.
Ali Gul Ali Ahsan
Ali is the owner of Mangobaaz – a digital media and entertainment platform that has become a sensation in Pakistan. Founded by a group of young entrepreneurs, Mangobaaz produces engaging content that resonates with Pakistani youth. From viral videos to thought-provoking articles, Mangobaaz has captured the hearts of millions and is a testament to the power of digital entrepreneurship in Pakistan.
Fatima Rizwan
Fatima Rizwan is a young entrepreneur who founded TechJuice, Pakistan's leading technology news and information platform. Her dedication to promoting the tech industry and startups in Pakistan has made TechJuice a vital resource for the entrepreneurial community. Fatima's journey showcases young entrepreneurs' power in shaping their country's future.
Roshaneh Zafar
Roshaneh Zafar is the founder and Managing Director of the Kashf Foundation, a microfinance institution dedicated to empowering women and alleviating poverty. Her entrepreneurial efforts have had a profound impact on women's economic empowerment and financial inclusion in Pakistan. Her work exemplifies the transformative power of social entrepreneurship.
 Zafar Khan
One of the most common names you hear when you talk about the rising entrepreneurs in Pakistan is the Zafar Khan – a founding member of Sofizar. The company thrives on Internet marketing by buying and selling products globally. The company is known to generate multimillion dollars in revenue, all under the supreme leadership of Zafar Khan.
Maria Umar 
Maria is one entrepreneur to look out for. Her venture includes a digital platform dedicated to women. Founder of 'Women Digital League', the platform ensues various training sessions and programs to empower women. Maria's digital space also provides various job and work opportunities for women to pursue and grow professionally. She has been featured on local and international platforms, including techcamp and Global Thinkers Mentors. She also participated in 'Project Artemis' a women empowerment program.
Related posts
Subscribe
* You will receive the latest news and updates on your favorite celebrities!