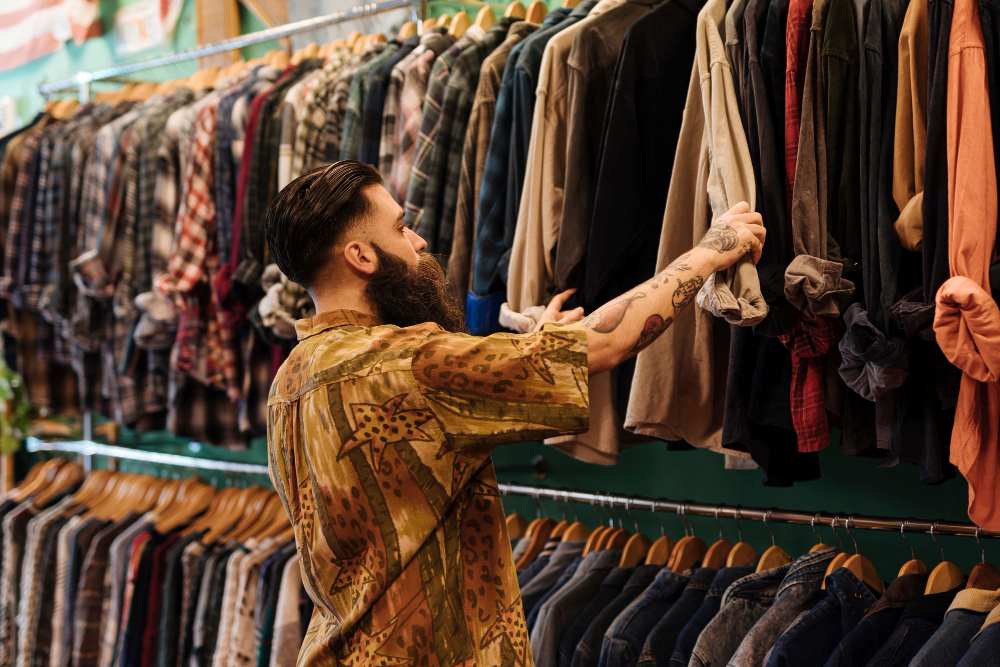 The realm of men's fashion in Pakistan has undergone a remarkable evolution, with a multitude of clothing brands emerging as trendsetters. Eastern wear or western wear, these brands not only offer style but also personify quality, innovation, and authenticity. Let's take a look at our top 10 favourites in the Men's Fashion Industry:
Amir Adnan: Elevating Elegance
Amir Adnan, a prominent name in the fashion industry, has crafted a distinct image of timeless elegance. Beyond the exceptional clothing, Amir Adnan's marketing strategy has focused on preserving the essence of tradition while embracing modernity. His brand portrays an aura of sophistication and authenticity that appeals to the discerning man. Through collaborations with celebrities and carefully curated social media content, Amir Adnan ensures his brand remains a symbol of refined fashion.
Sapphire: The Contemporary Touch
Sapphire, a brand traditionally renowned for women's fashion, has successfully broadened its appeal to include men in its audience. Their marketing approach harnesses the power of their well-established brand identity. Sapphire boasts a wide array of both casual and formal wear, showcasing contemporary designs, premium fabrics, and affordability as their key selling points. These strategies have positioned Sapphire as an enticing option for the contemporary Pakistani man, emphasizing style, quality, and affordability in equal measure.
J. (Junaid Jamshed): Blending Tradition with Modernity
J., or Junaid Jamshed, resonates with Pakistanis across the globe. Their marketing strategy is a rich mix of the tapestry of Pakistan's traditions with a contemporary twist. J. caters to a wide spectrum of men and their marketing efforts are finely tuned to strike a balance between tradition and modernity, making them a favorite for both casual and formal wear.
Bonanza Satrangi: Timeless Appeal
Bonanza Satrangi is a brand that thrives on a rich legacy of producing quality fabrics. Their marketing strategy revolves around celebrating the timeless appeal of their offerings. They showcase their diverse range of classic menswear, emphasizing the enduring quality of their fabrics and designs. Their approach resonates with individuals who appreciate classic, long-lasting fashion.
Gul Ahmed: The Versatile Choice
Gul Ahmed, with its rich history and diverse range of fabrics and designs, takes a marketing approach focused on versatility. They highlight the adaptability of their men's collection, which caters to various seasons and occasions. By leveraging a mix of traditional and digital advertising, they ensure their brand stays top-of-mind for men seeking a wide selection of clothing options.
Ideas Pret: Urban and Trendy Marketing
Ideas Pret, a sub-brand of Gul Ahmed, delves into the urban and trendy side of fashion. Their marketing strategy is inclined toward showcasing the latest fashion trends and urban chic. Their social media presence, influencer collaborations, and interactive campaigns ensure they remain on the radar of fashion-forward men.
Edenrobe: The Vibrant Youth Appeal
Edenrobe focuses on the dynamic and youthful sphere within men's fashion, catering to a vibrant demographic. Their marketing approach mirrors the youthful energy by endorsing fashionable casual attire. With a lively social media presence and captivating content, they connect seamlessly with the preferences of today's Pakistani man, placing a strong emphasis on both style and comfort.
Charcoal: Beacon of Contemporary Style
With an unwavering commitment to quality and an eye for detail, Charcoal crafts outfits that seamlessly blend fashion and comfort. Whether it's a formal affair or a casual outing, Charcoal's designs exude elegance, making every wearer stand out. The brand's ability to capture the essence of modern trends while staying rooted in cultural aesthetics has made it a favorite among fashion enthusiasts in Pakistan
Cambridge: The Epitome of Classic Menswear
Cambridge, a brand known for classic menswear, adheres to a marketing strategy that cherishes timeless style. Their advertising emphasizes classic designs, superior quality, and craftsmanship. They maintain a strong presence in traditional media and engage in corporate collaborations to remain a symbol of classic menswear.
Bareeze Man: Luxury and Distinction
Bareeze Man, an extension of the esteemed Bareeze brand, focuses on luxury and distinction. Their marketing strategy revolves around showcasing finely crafted formal wear, sherwanis, and kurta sets for special occasions. They maintain a strong presence at fashion events and engage with luxury lifestyle influencers to resonate with the audience seeking opulence.
Uniworth: Timeless Emblem of Elegance
Renowned for its classic menswear, Uniworth brings forth a range of outfits that radiate sophistication and charm. Each garment from Uniworth is a testament to meticulous craftsmanship and attention to design. Whether it's a well-tailored suit for a formal event or a casual ensemble for everyday wear, Uniworth's diverse collection caters to the diverse tastes of Pakistani men.
The men's fashion scene in Pakistan has experienced a renaissance, and these top 10 clothing brands have been instrumental in this transformation. Their marketing strategies are as diverse as their offerings, catering to the ever-evolving tastes of the modern Pakistani man.
Whether you're preparing for a formal event, updating your everyday wardrobe, or seeking a blend of tradition and modernity, these clothing brands offer a spectrum of choices that cater to the discerning tastes of the modern Pakistani man. The ability to maintain a strong brand presence, engage with influencers, and harness the power of digital media has positioned these brands at the zenith of Pakistan's fashion industry.
Related posts
Subscribe
* You will receive the latest news and updates on your favorite celebrities!