Pros and cons of Online Classes: The Faculty Perspective
Shahid M. Haq, 3 years ago
4 min

read
201
Shahid Mustafa Haq works as a Senior Associate Professor at Bahria University, Islamabad. He has more than 30 years' experience in corporate and 12 years in academia. Shahid Haq highlights the pros and cons of online classes that commenced soon after the COVID-19 pandemic outbreak. The first to close down were schools, colleges, and universities as a measure to keep the situation under control.
However, the start of online classes led to a lot of criticism from students. Especially, pertaining to the weak technological infrastructure and how unfair the system is for students who belong from areas with internet connectivity issues.  Regarding this, Talk Show with Salman Piracha conducted an online session on this topic with Shahid Mustafa Haq. The topic 'Why online classes?' was discussed profusely with the other side of the story given precedence. Usually, students and their opinions have surfaced on the internet but this time the talk show brings teachers' perspectives to light.
A perspective about online classes
The professor explains because of the COVID-19 there is a lot that has changed, including how drastically social dynamics have overturned. But the best thing to do is to keep your mind and body active as much as you can. He explains online teaching as a great way to keep this in check. Also, a lot of conundrum ensued pertaining to management indecisiveness. Many universities did not have the necessary logistics or infrastructure to be able to teach online during the pandemic. This further led to students and faculty being frustrated. But many other institutes including Bahria University adapted very quickly. They're continuously evolving and upgrading of the interactive Learning Management System (LMS) facilitated everyone.



Utilize the time to the best of your capability
He further added that students instead of sitting at home and wasting time should utilize this situation for their betterment. Online classes are one way of doing this.  The semester that was supposed to end in June if elongated per se, could easily waste six months to one year of the student's life. Besides this, universities have a set schedule to follow, and disturbing this could take a long time to return to normal activities.  Keeping students schedule of study and exams on track is one of the universities primary duties so that graduation, further studies, and job search is not greatly disturbed.
Classroom dynamics were already dependent on online platforms
Salman during the talk raised an important question. He said that universities located in metropolitan cities easily adapted to the situation, but the same cannot be said about universities in other parts of the country. To this Haq explained, if you analyze classroom dynamics, they were already dependent upon online platforms. Including applications like WhatsApp or even Facebook Messenger, wherein, teachers or class representatives would stay connected with students and share necessary details. So, to a certain extent, things were already happening online. But obviously full dependence on the online platform required a learning curve which was not only difficult for students but for teachers as well. But with apps like Zoom, things eventually became easier and we were able to resume class teaching with a semblance Faculty of normalcy.  The LMS platform with the possibility of sending notes and assignments, holding quizzes and exams, and providing feedback allowed us to do what would be done in a teaching system.
We are learning as we go along
Not only the students but teachers also had to learn 'on the job' as there was no training or preparation for this new situation all were in.  This was difficult and had its own share of challenges. The professor explained, we had to download papers, assignments, research papers, and other important material to effectively teach our students. None of us were prepared for it but we learnt as we went along. But on a note of positivity, some online teaching training sessions have commenced. Which means people are now on board with the premise. Organizations and councils are now pushing students, faculty, and administration to be ready for online teaching in the Fall semester. Obviously, there needs to be training sessions and policies in place which will happen along the way.
One good thing to come out of online teaching has been the change of teaching and evaluation mode.  Out of necessity, it has to move away from the rote learning system and reproducing in the exam to a more applied and analytical form of learning.
There is no doubt a drastic change from the classroom setting to the online session and it is challenging, and adaptability is the key. The fall semester will start as per schedule, online if needed, but we are hopeful that things will get better and everyone can return to normal classes at the universities with everyone safe and sound.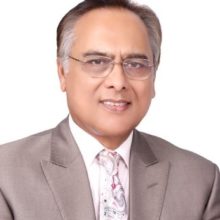 Shahid M. Haq
Shahid M. Haq has had a long and successful career as a senior corporate professional. Ten years ago, he moved to academia at Bahria University Islamabad where he taught for eight years and then set up and led the Leadership Development Center (LDC) as its founding Director. Retiring as a Senior Associate Professor he continues as a visiting faculty. He blends his experience in different areas and different sectors to advise, mentor and train. His interests are improving education planning, management and delivery with special emphasis on industry-academia linkages. He can be contacted at
[email protected]
.
Related posts
Subscribe
* You will receive the latest news and updates on your favorite celebrities!