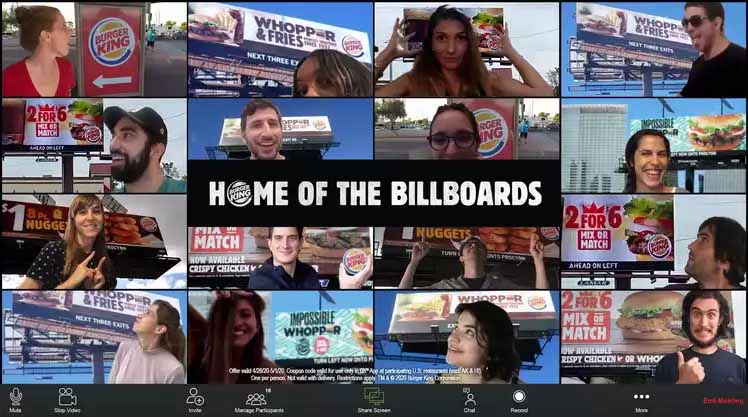 Burger King offers free Whoppers as their Home of the Billboards Campaign
PromiAD, 4 years ago
2 min

read
415
Burger King has always come up with innovative advertising ideas. Be it the fungus-laden close up of buns and meat patties or simple enticing pictures; they are definitely on top of their burger game. However, pertaining to the current challenging situation where everyone is supposed to be staying at home, Burger King has come up with an innovative idea.
Interesting back story
Amid the whole lockdown, the first institutions to close were schools, colleges, and universities. The main demographic pertaining to junk food are now confined to their homes. So using this to their advantage, Burger King decided to amp their advertising strategy. They are offering free whoppers to everyone who uses their billboards as a Zoom background. Why Zoom? This is because educational institutes now use Zoom application to ensue, online classes, offices use it for virtual meetings. Also, it is one of the most downloaded applications amid the whole state induced lockdown and rampant coronavirus.



 #HomeofTheBillboards Twitter Campaign
everyone's staying inside, and our billboards are going to waste with no one out there to see them. sooo we made backgrounds. use these on a video call, post a screenshot with @BurgerKing and #HomeOfTheBillboards & we'll DM you a BOGO Whopper coupon for being our new #ad pic.twitter.com/Y2t6D3RReO

— Burger King (@BurgerKing) April 28, 2020

The Home of the Billboards campaign in collaboration with David Buenos Aires agency, the purpose is to encourage and promote participation from digital marketers. All you need to do is download one of the billboard images from many available online or from their official Twitter account. Once done, upload the picture as a Zoom background during your online sessions or any official meetings. Take a screenshot of the session and then upload the picture on Twitter with the hashtag #HomeofTheBillboards. After your entry is viewed, Burger King will directly message you with a coupon. However, the offer is available in the United States only.



Burger King is known for its classic Whopper sandwich. Which includes a juicy thick beef patty with lots of salad, pickles and tangy sauce.
Related posts
Subscribe
* You will receive the latest news and updates on your favorite celebrities!