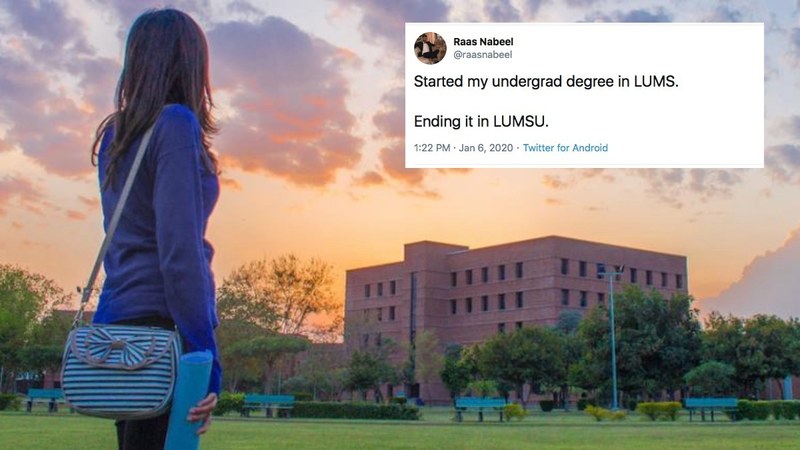 LUMS plans to rebrand itself as LUMSU goes awry on Twitter
Muhammad Usman, 4 years ago
2 min

read
179
We all know Lahore University of Management Sciences (LUMS) and National University of Science and Technology (NUST) are two of the most leading universities of Pakistan. LUMS is known for its business school whereas NUST has a local as well as international ranking. However, LUMS rebranding its self comes as a surprise to many. As reported LUMS will now be known as LUMSU which is Lahore University of Management Sciences and University. Confused right? We all are. Others have reported that LUMS will now be known as LUMS University. 



LUMS: *Abbreviates Lahore University of Management Science*
Pakistanis: *Start calling it Lums University*
LUMS: *Rebrands itself is Lums University*
Pakistanis: "Lumsu University"
LUMSU: pic.twitter.com/E2PM60Puyb

— ⎋ (@e_scape_artist) January 6, 2020
Potato, potatoe? 
The abbreviation LUMSU has taken social media by storm. Many memes have since emerged making fun of the whole new rebranding move. Many have asked LUMS to fire their branding team as well. Others have taken to Twitter as a way to express their honest opinions. Some of which includes: 
LUMSU sounds like a cute nickname like, "arre mera LUMSU kitna pyara hai." https://t.co/WPFo6349Ia

— Nida Kirmani (@nidkirm) January 6, 2020

LUMS students have shown utter disappointment for the rebranding:
Woke up to an admin email that says LUMS is no longer an acronym. The university is now formally called LUMS University (i guess on account of it being way more than just a place for people to study management)

— Umair Javed (@umairjav) January 6, 2020
Others have been plain savage:
In conclusion, the news has left people speechless. People on Twitter have also reported that the faculty members will be resigning once the rebranding finalizes. Going to the extreme over a name might not be the right move. But can we blame them?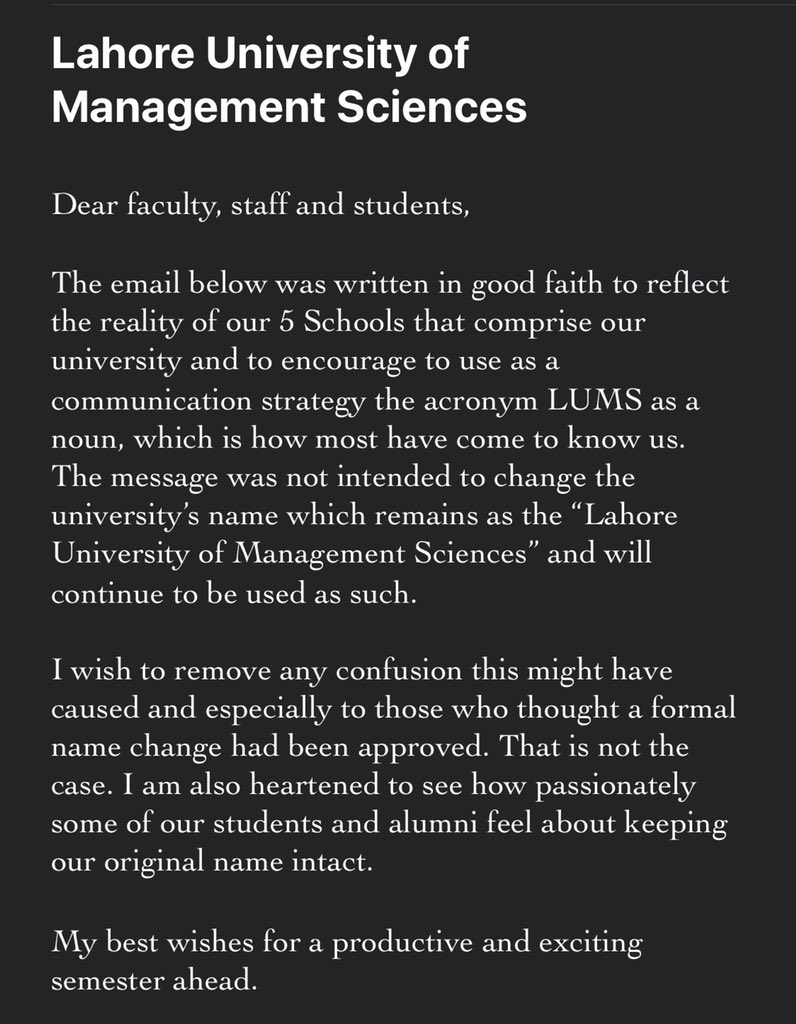 Muhammad Usman
Experienced marketer with a demonstrated history of working in digital marketing and branding. Muhammad Usman specializes in growth hacking for businesses with a mix of marketing, corporate communication, and user experience (UX) strategies. He empowers brands to communicate with their target audience through end-to-end digital marketing and branding strategies.
Related posts
Subscribe
* You will receive the latest news and updates on your favorite celebrities!