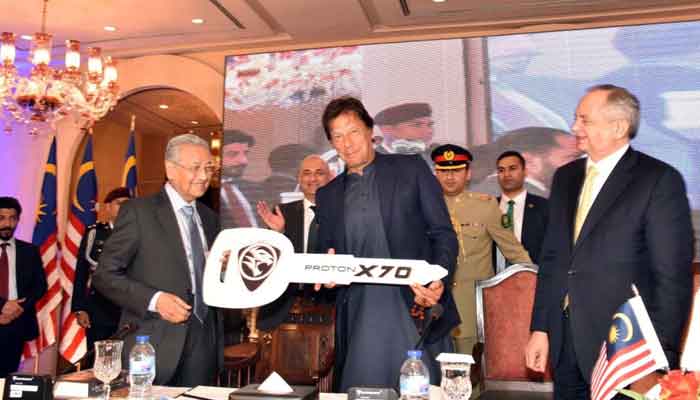 PM Imran Khan received a brand new car as a gift from the Malaysian Prime Minister, Mahatir Mohammad. The car is a Proton X70 which is the first Malaysian-premium sports utility car. Proton X70 was handed over to Abdul Razzak Dawood, Prime Minister Imran Khan's advisor. A proper ceremony was conducted at the Malaysian Commission in Islamabad.
The branded car gifted depicts a symbol of peace, love, and respect between both the countries. This gift will also pave the way for further developmental and bilateral relations between Pakistan and Malaysia. Abdul Razzaq Dawood also tweeted about the car and how happy the PM is to receive such a gift.
1/2 Honoured to receive the Proton car gifted by Dr. Mahathir Mohamad to PM @ImranKhanPTI, at the Malaysian High Commission at Islamabad. @ansukhera @aliya_hamza @MYHCIslamabad pic.twitter.com/KEmxYufXBN

— Abdul Razak Dawood (@razak_dawood) December 16, 2019
Abdul Razzaq Dawod
Also tweeted about Malaysia's remarkable progress over the three decades. And how the gift is an expression of both Muslim countries coming together. This will also help boost the automotive industry and production. Also, Dawood expressed that both countries need to enhance their trade relations. He was concerned that the trade between Pakistan and Malaysia has been below par. For now, he believes that trade relations need to be worked upon which can benefit the economy hugely. 
PM Imran Khan has already visited Malaysia five times, with the aim to strengthen ties. This gift is proof that Malaysia will continue to build brotherly ties with Pakistan. A diplomat from Malaysia has also expressed his opinion and willingness to encourage Pakistan to invest and build an automobile industry. This initiative is extremely important for our economy. An automobile industry will create much-needed jobs. Help with boosting our gross domestic product. And will also bring in lots of foreign investment. 
Hopefully, Prime Minister Imran Khan will enjoy his new car.  Proton x70 has a myriad of premium features. Including, 1.8-litre TGDI petrol engine. 6-speed automatic transmission. The car also has a turbocharged power plant for a smooth drive. Also, the car has 6 SRS airbags that ensure safety in case of any accidents. Furthermore, the SUV has daytime running lights, USB connectivity, an exclusive voice command feature, and dual-zone air conditioning.
Muhammad Usman
Experienced marketer with a demonstrated history of working in digital marketing and branding. Muhammad Usman specializes in growth hacking for businesses with a mix of marketing, corporate communication, and user experience (UX) strategies. He empowers brands to communicate with their target audience through end-to-end digital marketing and branding strategies.
Related posts
Subscribe
* You will receive the latest news and updates on your favorite celebrities!